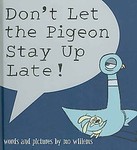 So, I was invited to participate in a chain-letter style book exchange. I need to pass it on to six people and I only want to send it to people who will actually do it. (I am generally the person to drop the ball on such things--fair warning if you send a recipe swap my way!)
Here's how it works: You send one book to the kid on the top of your list. (I bought this one online that I found cheap and then I didn't have to go to the effort to ship it, because you know how postally challenged I am. Go to half.com.) Then you photocopy the letter, move the names up, and put your kid's name at the bottom of the list. You send it on to six friends. If everyone plays, your kid gets 36 books in a couple of weeks. I figure, even if everyone doesn't play and just some of them do, my kids will be thrilled to get a book or two in the mail.
So, who out there would like to be included? I would love to send this on to you. Please please please! Send me an email if you do. My address is sleepymumATgmailDOTcom. Here's hoping that I get at least six takers. And don't worry--if I get more than six, I can always share you with my sister, who has the same task.