I wish we were having a real party, but let's have a blog party to celebrate my
200th
post! I'll wait while you grab some chips and salsa or something chocolatey and read on.
When I started this blog, I was just looking for an outlet and something that would encourage me to look for ways to "relish motherhood". What I've found is a lot of friends, a place where I can be myself, and a chance to work on my rusty old writing skills. I've been able to chronicle some of our comings and goings, milestones of our kids, but mostly just how I feel about things.
Sometimes I feel guilty about blogging--perhaps because I enjoy it so much, perhaps because it doesn't feel productive, because it takes away from time I could spend serving someone else. But then I get a comment from one of you, or a friend mentions that something that I said in a blog helped them, and I decide that maybe it's not a completely selfish hobby. So thank you to those of you who have left such sweet comments for me--it means so much.
Since this wouldn't be half as fun without you, dear readers, I wanted to give out some door prizes at my party. As I am frugally minded and striving to set my house in order, I had to think outside of the box on what I could offer as a giveaway. (I am not one of those cool bloggers who has sponsors to donate giveaway items. How can I get hooked up with that?) Keep in mind that I am postally challenged and even as I write this, I can see a stack of cookbook CDs in padded envelopes that have yet to be mailed to the participants of my summer writing contest. (I'll get those out soon, girls, I promise!)
So, here are
three
things that I'm giving away.
One:
a batch of
my most favorite chocolate chip cookies
, delivered to your door (by mail if you don't live in my own town.) This will require me to actually go to the post office on the same day I bake cookies, but I'm willing to do it because I love you--and because I need to go anyway and mail off these dadburned cookbook CDs.
Two:
a copy of my cookbook CD, which I originally published to give to my family and friends last Christmas. If you already have one coming to you from the writing contest, you can opt out of this prize or give it away yourself.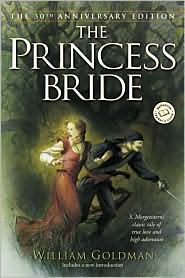 Third:
a copy of one of my favorite books (which has been made into one of my favorite movies) :
The Princess Bride
byWilliam Goldman. I'm going to warn you now that I'm ordering it online and it may be gently used. It will not detract from the enjoyment that you and your family will surely have while reading it. Just think of it as a recycled, green prize. I'm a big fan of used books as well as of
The Princess Bride
.
So, if you want to participate, just leave me a comment telling me which of these prizes you'd most like (or alternatively, you can tell me why you like to read my blog and I'll consider you for all three prizes. Because I like compliments:) You have until the end of day
Tuesday, October 7th
(11:59 pm PST). My kids will help me do a random drawing. I'll do my best to get your prizes mailed off sooner than later.
While you're here at my party, I wanted to introduce you to a friend of mine--another blog. My real-life friend, Christine, has started a blog that I really want you to check out. She already has one about
cupcakes
and one that offers
free interior design
, and her
new blog is an (almost) daily scripture study response
. If you're lucky enough to know her, you know that Christine really loves the scriptures and has a gift for teaching from them. She has taught early morning seminary (a weekday scripture study class for high school kids), adult Sunday School, Relief Society (for the women of our congregation), and also teaches a monthly class on the Book of Mormon for any of the women in our congregation who want to attend. Her classes are engaging and spiritual, and she always has great resources for quotes, wonderful stories, and analogies that help you really get it. I love reading this and don't feel guilty about spending a few minutes a day on this blog. So go check it out and leave her a comment so she won't be the lonely girl at the party!:)
Oh, and one last thing. The Guest Book. I added this new thingy to my sidebar called Followers. I think that it's an unfortunate name because no one really wants to be a follower--didn't our moms warn us against that? But I would love it if you just wanted to be a reader that Blogger called "follower"!:) It's easy to sign up if you have a blogger account. Then people can click on your picture and come and visit your blogs. So feel free to join the ranks. I promise only positive peer pressure will be involved.
There. We've gotten all of the business out of the way. Now I really wish you were here with me to have our little party. At least I can host a virtual party with my pajamas on and the house less than spic-and-span. And no clean-up afterwards!. We should really have these more often. Thanks for coming!