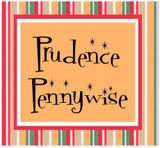 If you've never tried any of
Prudence Pennywise's
recipes, then you may think that I gush way too much about her food and her blog. But if you have tried even one of them, you know that it would be impossible to praise her too highly. I make Prudy recipes multiple times a week, and turn to her for great ideas. Some of my favorites lately have been:
... to name just a few.
You really need to check out her blog and try your hand at some of the deliciousness. They are not only gourmet, they are inexpensive and often very easy to make.
Prudy is sponsoring a giveaway in honor of her 100th post. There are four great cooking prizes on the line. You just need to go
here
and
leave a comment
mentioning the first thing that you remember cooking by yourself. And tell her Michal sent you!:) Get over there before Wednesday, when the time will be up. I've got my finger's crossed for the brand new Ina Garten cookbook.